ollyGold, an inventive entertainment company, announces its successful limited token sale from 9th to 13th November. The limited token sale was held on DigiFinex, a well-established cryptocurrency exchange, and asset management platform.
Origin of HollyGold
HollyGold is an initiative that resulted from a collaboration between prominent cryptocurrency specialists in Asia (BitSense CEO, Dior Wu, etc) and a group of high profile Hollywood producers. Their board of advisors consists of well-respected individuals with a track record of directing thousands of films. Some of them include but not limited to:
Chris Bremble
Mark Damon
Grant Cramer
Gerald R Molen
Kevin Robl
One of HollyGold's major partners, Base FX, is an award-winning animation and visual effects company with offices and production studios in Beijing, Wuxi, Xiamen Kuala Lumpur, and Los Angeles. BAse FX was formerly founded in 2006 and has assisted in the production of more than 200 domestic and foreign film and television visual effect productions.
The company (Base FX) is considered to be a leader in China's film visual effects industry and has won the Emmy award three times – HBO's the Pacific, Boardwalk Empire, and Starz's Black Sail. It also won a nomination for the Academy Award for the best visual effects two times in a row.
In order to continuously move up the ladder in the film industry, Base FX has been consistent with its effort in seeking new partnerships with renowned companies in the industry. For example, in 2012, it signed a strategic cooperation agreement with Industrial Light and Magic, which is a very popular visual effect company and the visual effect producer of the epic sci-fi series Star Wars. The purpose of the cooperation was to provide high-quality visual effects services for a series of Hollywood visual effects blockbusters.
Apart from partnerships with renowned film companies, Base FX has also succeeded in cooperating with high profile producers and directors in the industry.
Thanks to the strategic partnerships that HollyGold has established in the film industry, many producers, entertainers, and entrepreneurs across the world are showing support for their IEO project that will take place on DigiFinex. Some of these individuals include:
Costas Mandylor
Johnny Messner
Mathew Modine
Nick Cannon
Michael Madsen
All the above personalities are involved in an upcoming movie titled American Badass, which is scheduled to take place in mid-November 2020. With Base FX as a major partner of HollyGold, the movie is expected to attract members of Hollywood to the crypto industry. This will, in turn, help in spreading crypto adoption in the movie industry and the world at large.
About the HollyGold Limited Token Sale
Token denotation: HGOLD
Full name: HollyGold.
Total supply: 1 billion HGOLD
Telegram community: @hollygoldhgold
A total of 5 rounds of HollyGold limited token sale was held successfully between 9th to 13th Nov, 2020 on DigiFinex, with the final round of the sale lasting only for 20 minutes. The event attracted 5,6k participants from all corners of the world and a total of $4.9m was raised. HGOLD is now listed on DigiFinex and started trading on 16th November. HGOLD is currently exclusively available on DigiFinex.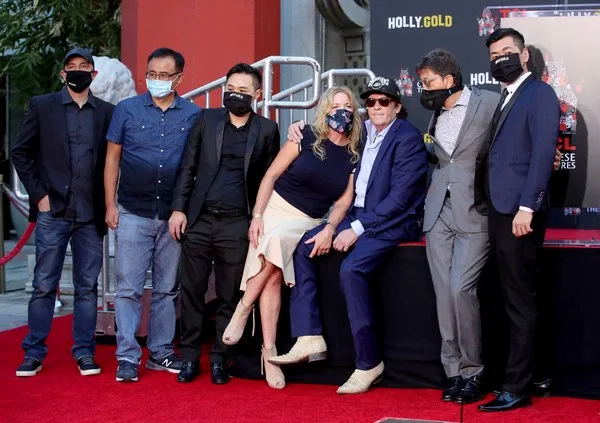 Group photo of the HollyGold Team, and Hollywood star Michael Madsen with his wife DeAnna Madsen
Why choose DigiFinex exchange?
DigiFinex is a Hong Kong-based cryptocurrency exchange and is considered one of the top exchanges in the industry with 6 offices across the world. The founding members of DigiFinex come from well-established tech companies in Hong Kong, China, and the United States. Plus, they all have immeasurable experience in networking technologies and in developing financial applications.
With a user base of 4 million and counting, DigiFinex has proven itself time and again to be a reliable cryptocurrency exchange and an asset management platform for traders and investors in the global financial markets. The exchange has more than 200 cryptocurrencies on its platform and has been ranked consistently as one of the top-performing markets among 240 exchanges on coinmarketcap.
The exchange also offers peer to peer (P2P), spot margin, futures trading as well as crypto asset management services including funds and loans.
To sum up, HollyGold has established strategic partnerships in the global film industry and their token sale and exchange listing on DigiFinex will be a turning point for many people. Anyone who wants to become a part of the next Hollywood blockbuster simply has to get a hold of some HGOLD tokens.